A private chef for your wedding !
Hire the chef for your ceremony
Here are some testimonials from my clients :
Rachael and Sean / July 7th 2022
Thank you for providing beautiful food on our wedding day. Your communication on the lead up to the wedding was excellent and you accommodated our various dietary requirements easily. Our guests were delighted with their meals and you even accommodated the extra guest that turned up unannounced on the day. Thank you for making the whole process very straight forward!
---
Isabelle and Christian / August 11th 2018
We were delighted to have Emmanuel cater our wedding party. The discussions with him in preparation were very professional and he was always quick to respond. A few days before the party, he came to the venue to discuss the final menu with us and make some very helpful suggestions to make the meal even better. We are definite foodies, so good food was important to us. Emmanuel definitely didn't disappoint as the food itself was great, especially considering we had a small budget. We chose a cold buffet, which suited our relaxed atmosphere well. Everybody said how much they enjoyed it all (especially the desserts) and the fact that we had leftovers (due to last minute cancellations) meant that we could enjoy the food the next day too - even better! We would definitely recommend Emmanuel's services for any party and wish him all the very best.
---
Isabelle Hung / June 10th 2017
So professional. He always returned our questions straight away. He was also very flexible and able to make changes when we asked for them. Most important of all, the food was delicious. We are glad we chose "Un Chez Chez Vous" and recommend him 100%
---
Tom & Jen / June 2017
We went to the south of France to get married and Chef Emmanuel was recommended to us to prepare our dinner and he did not disappoint. The food was not only absolutely delicious but it was also a work of art. I would highly recommend Chef Emmanuel to anyone and everyone!
---
Breanna & Joshua Sheldon / June 12th 2016
We could not be more grateful and thankful to have had Chef Sofonea cook for us as part of our french wedding ceremony in Mont Boron, Nice. The food was outstanding and among our guest included a Michelin Star restaurant food blogger who absolutely raved about the beautiful food, we had the rack of lamb and the roasted sea bass with the crunchy lemon tart. We highly recommend anyone to hire Chef Sofonea who really made our wedding so much more special. I have to add that he also was a HUGE help in organizing our day in many other aspects and he would respond to us in moments. We hope to meet again soon when we are back in France.
---
Renate and Sondre / September 11th 2014
Thank you so much for an excellent wedding dinner in Villa Savoy in September 2014. Chef Emmanuel has been so helpful during our wedding planning. He has been verry professional in advance and during our wedding. We will strongly recomend him as chef for your wedding!
---
Ali & Byron Ford / July 9th2014
Chef Emmanuel made our wedding day an incredible event. We decided on a destination wedding in the Luberon, and Chef Emmanuel made us feel very comfortable in hiring him without meeting before our wedding. In the months, weeks, and days leading up to our wedding day, Chef Emmanuel was prompt in responding to our emails, helpful, and flexible in regards to food allergies in our party and the facilities at our villa.

On the day of our wedding, he arrived on time, with a friendly and professional demeanor, and worked magic in our small kitchen! We can't imagine the day without him--dinner itself was an occasion we'll remember for the rest of our lives. Our families and friends were both absolutely floored by the beauty and quality of his food, as were we! Each course was more beautiful than the last, perfectly balanced, creative, and surprising. Absolutely magical. it was a windy day with the mistral winds blowing at their most forceful, and he handled it beautifully, balancing wine glasses with skill and grace.

We would hands down recommend Chef Emmanuel to anybody looking for an unforgettable event! Thank you, Chef! We will certainly be looking back on our wedding dinner with fondness and nostalgia for many years to come!
---
Jake and Natalia / June 5th 2013
Emmanuel -- what a find! After having tried several different caterers in the area, and not happy with any, we stumbled upon Emmanuel's website. After reading the reviews, and seeing the sample menus, we knew we found our chef. We took a chance by not meeting him until he arrived at the house at 3PM on our wedding day. But the process beforehand could not have been more reassuring and easy. He was quick to respond to all of our questions (and we had many) and he was willing to work with our menu ideas for our 38 guests. Driving up to the Luberon from near Cannes, while bringing everything he needed to work with was incredibly fortunate. On the day, he arrived early and the meal was served at the times we requested. He worked quietly in our kitchen while the delicious plates arrived miraculously. The food was amazing and everyone was smiling. Emmanuel was professional and respectful to our amazing celebration. Thank you for making this so easy, Emmanuel and thank heavens we took a chance. Well worth it !!!

Regards,
---
Bradley & Darcy / June 18th 2011
So, how do you plan a wedding in St-Tropez from the U.S ? We had a judge. We had a bride and groom. We had 27 guests. We found a villa with ocean-view in Ramatuelle. We went online from the U.S. to see if we could find a caterer. It wasn't easy, but we finally found Emmanuel Sofonea. Frankly, we were uneasy about our choice. How would we know if it would be a success or failure ?

We met in Antibes 3 days before the dinner. After meeting, we were at peace. This guy has it together !

So, here's what you get for probably half of what you'd pay at a mediocre restaurant on the Cote D'Azur...

He arrived early...3:00 for a 8:00 dinner.
He was willing to work with our menu ideas.
He purchased all the food.
He brought the plates.
The meal was served correctly and in a timely fashion.
The food was delicious.
The kitchen was cleaner after dinner than when the chef arrived.
His attitude was pleasant, positive.

Most importantly, he delivered in a critical situation for us. It could have been terrible. But, it was superb! Three stars, Chef Sofonea!!!
---
Nina and Padraic / September 17th2010
We planned our wedding dinner for 46 people with Mr. Sofonea from the start, and he was very professional, responsive and reliable. This was very important for us as we were planning a September wedding in France whilst living full time in the UK. Moreover, we were merging Swedish and American traditions at our wedding but wanted to preserve the French flavour.

We met personally with Mr Sofonea once before the wedding, and although we did not taste the food, we felt very comfortable that the menu suggestions he was making were exactly what we were looking for and that he understood the idea of what we were trying to do; a delicious classic Provencal meal with finesse and style suitable for our wedding dinner with international guests. Our wedding took place on 17 September 2010 and we wanted to use local produce that was also in season; we had already decided to serve local wine from the region. Our dinner was a seated 3-course dinner in a marquee in a garden of a villa, set amongst the vineyards outside of Ramatuelle.

We chose puff pastry and small quiches for our aperitif which was champagne served around the pool in the garden, and enjoyed delicious foie gras, smoked salmon and vegetarian options. Our guests devoured them! As a starter course we chose the scallops and crispy bacon on a salad mesclum bed, the scallops were cooked to perfection and the presentation was superb. For our main course we chose the rack of lamb with ratatouille and added a sweet potato cake. All the food was cooked in the villa which we had rented for the occasion, and which did not have a full scale professional kitchen (!) and we all agree that this is the most delicious rack of lamb we have ever eaten. As our dessert we chose the fresh berries, meringue and sabayonne sauce which was served in coupe glasses, and we loved it. We chose not to have a wedding cake, but served macaroons with coffee after dinner buffet-style.

Overall, we and our guests were so impressed with the food, the arrangement and managing it all in the small kitchen that we can highly recommend Mr. Sofonea for similar events. As issues arose during the course of the evening (e.g. one of our guests decided last minute she wanted vegetarian food without having told us beforehand) these were solved seamlessly by Mr. Sofonea.

We were so lucky to have Mr Sofonea help us in connection with our wedding, and he left the kitchen and house in such perfect condition that it was impossible to imagine that a dinner of such scale had been cooked and prepared there.

We wish you a lot of success and happiness in the coming years and hope to see you again someday.
Best wishes and a million thanks
---
Maren & David Flotve Reme / September 13th2009 / Vence
Dear Emmanuel! Thank you so much for making our wedding in Vence "a dream come true"! Your cooking is fabulous!! We will gladly recommend you to others and hopefully we'll get the change to taste your delicius gourmet meals again!

THANK YOU!!
---
Bobby from www.bobbyearle.com / June 7th2008 / Saint-Jean Cap Ferrat.
Now, I cannot say enough about the wedding vendors for this wedding. Natalie from Wedding Angels headed up EVERYTHING. I've worked with some awesome wedding planners but never have I seen anything like Natalie. If you are planning a destination wedding in France, definitely get in touch with her. Melissa (the bride) literally didn't lift a finger. Also, the Boogiemen were an awesome live band! They were willing to take requests and were incredibly talented. There was so much added to the day because of their music. And Chef Emmanuel Sofonea treated us all to some of the most decadent food we've ever tasted.

Well, this is officially our favorite wedding to date. So many reasons, really. The location, the food, the couple... but most of all because Melissa and Anthony actually made us wedding guests! There we ten of us altogether and we were so honored to be a part of this wedding. We just shared stories and hung out the whole time! I'll be blogging much more about it when it's finished (we have a reception/cocktail party in Vegas in two weeks) - the cook (the personal chef to Will Smith a couple weeks ago for the Cannes film festival), the band, the incredible wedding planner - it was just amazing. Here are some of my quick picks as favorites :)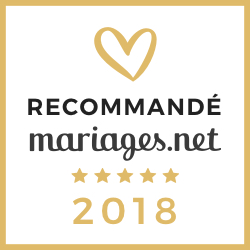 ---
Why use my services for your wedding ?
First the kitchen is not just about crunch, it is especially a great human adventure where you have to love people.
I head home now for 23 years and I create special relationships with my clients.
I'll meet you once or twice before the wedding (or not because I sometimes organize weddings for foreigners I meet only the wedding day).
In the process of organization I can help you with the rental of dishes and equipment if needed, you find a place among my partners.
The day of the meal I'll get a few hours before and you and your guests can come see me work in the kitchen and discuss, ask questions, etc.. For 23 years I have created dozens of marriage and now I also performs baptisms and communions of children.
To convince you read the testimonials of my clients !